Best Angelina Jolie Quotes
Angelina Jolie is a very famous Hollywood movie star, filmmaker and humanitarian. She was born in 1975 in Los Angeles, California. Here are some of the the best Angelina Jolie quotes –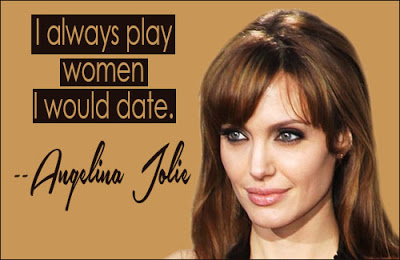 We have a choice about how we take what happens to us in our life and whether or not we allow it to turn us. We can become consumed by hate and darkness, or we're able to regain our humanity somehow, or come to terms with things and learn something about ourselves.
Without pain, there would be no suffering, without suffering we would never learn from our mistakes. To make it right, pain and suffering is the key to all windows, without it, there is no way of life.
Make bold choices and make mistakes. It's all those things that add up to the person you become.
I'm happy being myself, which I've never been before. I always hid in other people, or tried to find myself through the characters, or live out their lives, but I didn't have those things in mine.
Anytime I feel lost, I pull out a map and stare. I stare until I have reminded myself that life is a giant adventure, so much to do, to see.
When I get logical, and I don't trust my instincts – that's when I get in trouble.
When other little girls wanted to be ballet dancers I kind of wanted to be a vampire.
If you don't get out of the box you've been raised in, you won't understand how much bigger the world is.
I always wanted a great love affair: something that feels big and full, really honest, and enough. No moment should feel slight, false, or a little off. For me, it had to be everything.
I've realized that being happy is a choice. You never want to rub anybody the wrong way or not be fun to be around, but you have to be happy. When I get logical and I don't trust my instincts – Thats when I get in trouble.
I don't believe in guilt; I believe in living on impulse as long as you never intentionally hurt another person. And don't judge people in your life. I think you should live completely free.
Breast cancer alone kills some 458,000 people each year, according to the World Health Organization, mainly in low- and middle-income countries. It has got to be a priority to ensure that more women can access gene testing and lifesaving preventive treatment, whatever their means and background, wherever they live.
Now they can do all these magic things with computers. So you think you get to do something in a movie and you find out you don't get to really do it.
Usually all my tattoos came at good times. A tattoo is something permanent when you've made a self-discovery, or something you've come to a conclusion about.
People always slow down for a train wreck. It's like junk food. If you don't feel good about yourself, you want to read crap about other people, like gossip in high school. You don't understand why it's there, but somehow it makes a lot of people feel better.
I'm just honest, I like that I don't have to worry about what I say. I really don't have the time or energy to pretend and I don't want to live that way.
These were some of the best Angelina Jolie quotes. Do bookmark the page if you liked the quotes and check for updates.