Top 10 Best Ashton Kutcher Quotes
Christopher Ashton Kutcher is an American actor, producer, investor and former model. Kutcher began his career as a model. He began his acting career portraying Michael Kelso in the Fox sitcom That '70s Show, which aired for eight seasons. Here are are the top 10 best Ashton Kutcher quotes –
#1 If you really want to make a relationship work, at some point in time, you're going to have to make some sacrifices and do some things that are a little bit uncomfortable.
#2 Vulnerability is the essence of romance. It's the art of being uncalculated, the willingness to look foolish, the courage to say, 'This is me, and I'm interested in you enough to show you my flaws with the hope that you may embrace me for all that I am but, more important, all that I am not.'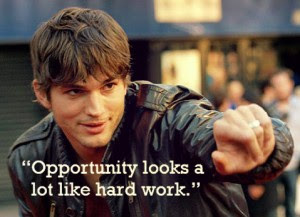 #3 Anyone who wants to be an entrepreneur like someone else is actually looking in the wrong direction. You don't look out for inspiration, you look in. You have to ask yourself how can I be better today, at solving the problem I am trying to solve for my company. I wouldn't encourage anyone to be like me. Just be like you.
#4 My parents couldn't give me a whole lot of financial support, but they gave me good genes. My dad is a handsome son-of-a-gun, and my mom is beautiful. And I've definitely been the lucky recipient. So, thank you, Mom and Dad.
#5 Everybody likes to hold up a really big righteous sword when people make mistakes. Well guess what, now it's recorded and everyone has access to it… so let's stop judging people.
#6 The sexiest thing in the entire world is being really smart. And being thoughtful and being generous. Everything else is crap. I promise you. It's just crap that people try to sell to you to make you feel like less. So don't buy it. Be smart. Be thoughtful and be generous.
#7 There's something advantageous about having people underestimate your intellect, insomuch as a lot of things are revealed to you. They assume you don't know what you're talking about, then all of a sudden, you do. And the next thing you know, you have information you wouldn't normally have.
#8 I think privacy is valuable. You don't have to share everything, and it's healthy to occasionally hit the pause button and ask yourself if you're oversharing. But at the end of the day, if you're not doing anything wrong, you don't have anything to hide.
#9 I am only young once, who cares if I'm a goofball!
#10 Modeling is the best because you have to look hot, which comes easy to me, you know. I'm blessed with that.
More Best Ashton Kutcher Quotes
The truth is that I'm an idiot. I am. I don't do things by the rules sometimes. I say things that I probably shouldn't say. I push buttons. I deserve to be made fun of. And I feel like, as soon as you can make fun of something, it instantly removes the fear.
I'm continually trying to make choices that put me against my own comfort zone. As long as you're uncomfortable, it means you're growing.
I don't think opposites attract. I think like attracts like. So I don't think that they do attract, opposites. Only when you're talking about magnetic poles.
Always roll up the sleeves on your shirt. It gives the impression that you're working, even if you're not.
I've never had a job in my life that I was better than. I was always just lucky to have a job. And every job I had was a steppingstone to my next job, and I never quit my job until I had my next job.
These were the top 10 best Ashton Kutcher quotes. Do share these and comment for more!!